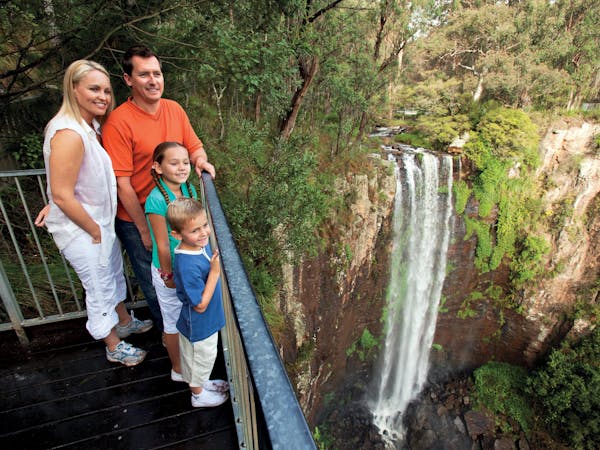 Falls Drive
The road climbs up a steep, but safe road, with stops along the way to view waterfalls and valleys and picturesque landscapes. Drive through rainforest trees, spotting wildlife along the way, to take a rest at Queen Mary Falls, where there is picnic facilities and a beautiful 40 metres of plunging waterfall, which carries the Spring Creek to the Condamine River and then to the Murray Darling.

The Falls Drive will take you past Teviot Falls, Browns Falls, Daggs Falls and Upper Browns Falls, with plenty of places to stop and take in the surroundings.

Carrs Lookout is an impressive view, with sights all the way to Brisbane on a clear day. Parking available at Spring Creek Café, and then a short walk along a purpose-built boardwalk to the lookout. It can get very cool up in the temperate rainforest, which makes for easy walking. The drive from Carrs Lookout to Boonah, or to Cambanoora Gorge below can get very steep and narrow in places, so is not a suitable road for large vehicles. Along this section, there are ancient rainforest trees, Bell-birds to hear and is a lovely, meandering trip down into the valley below.